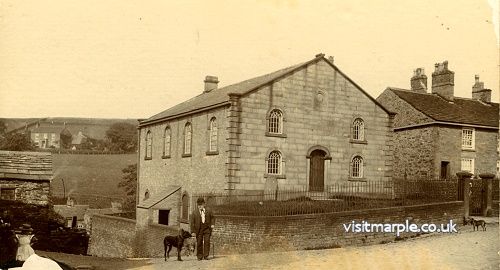 Transcript of Cassette entitled: Mr Wigley
Mr. Wigley who worked at Bottoms Mill, lived in Mellor at Red Row and Podnor Row until he moved to Marple as an old man. He died in 1969 aged 88. His grandparents were Henry and Ann Wigley (née Vanpine)
Mr Wigley's reminiscences of Mellor: Now in, I should think, 1830, the first school house in Mellor was in the churchyard and there are chains around the place now because the school house fell in and it was done away with. The next school house my father (grandfather) had was in New House Hill Chapel, bottom part of New House Hill Chapel in 1851. That went on for some years until he'd finished. He was getting a very old man so his schooling days was finished and who else taught I can't remember if anybody did because there were a lot of people could na read or write lately up there.
The clue is in the name - Fold. It means an enclosure from waste land or moor land, either for people or for animals. It still survives in the word 'sheepfold' but originally it had a much wider application.
The enclosure of common land has been a continuing process for centuries in England, but at first it was an occasional movement though it did become more systematic under the Tudors and the Stuarts. The early enclosures were mainly in southern and eastern England, south of a line from the Severn to the Humber but by the eighteenth century the Enlightenment was suggesting new approaches to agriculture as well as other fields such as transport and industry.

September 2007 Girl Power – Manchester Style
Jean Bailo
October 2007 Ellen Turner – Local Girl in National Scandal
Kate Atkinson
November 2007 Life in Longdendale
David Frith
December 2007 Christmas Party The lighter side of Local History
Jack Turnbull
January 2008 Underground Stockport
Kevin Dranfield
February 2008 The John Rylands Library and its collections
Dawn Yates
March 2008 10,000 years in Mellor
Ann Hearle
April 2008 AGM – followed by: Fire in the Summit Tunnel
Donald Reid
July 2008 Cheese & Wine Evening
at the Old Vicarage, Mellor