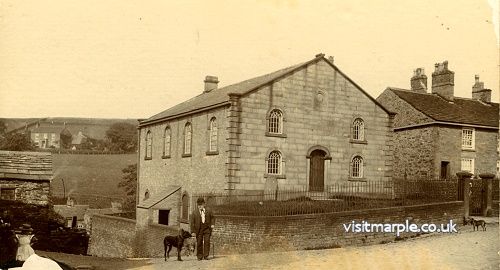 Newhouse Hill Chapel, Moorend Mellor.
Transcript of Cassette entitled: Mr Wigley
Mr. Wigley who worked at Bottoms Mill, lived in Mellor at Red Row and Podnor Row until he moved to Marple as an old man. He died in 1969 aged 88. His grandparents were Henry and Ann Wigley (néeVanpine)
(Ann Wigley was the subject of one of our archive stories - From Jamaica to Mellor)
Mr Wigley's reminiscences of Mellor: Now in, I should think, 1830, the first school house in Mellor was in the churchyard and there are chains around the place now because the school house fell in and it was done away with. The next school house my father (grandfather) had was in New House Hill Chapel, bottom part of New House Hill Chapel in 1851. That went on for some years until he'd finished. He was getting a very old man so his schooling days was finished and who else taught I can't remember if anybody did because there were a lot of people could na read or write lately up there.
My grandfather taught the boys and my grandmother taught the knitting and all that business for the girls so they was both teachers. I have the photo here that was taken from an old one in 1874, this bin taken in 1901. Now we lived in Oldknow's houses known as Red Row. There was seven houses and when the mill was working it was alright but we had no water supply. We had to carry water from drainpipes from fields or a well in Slack Wood known as soap well because it was always coloured like soap with coming through clay. The old people said it a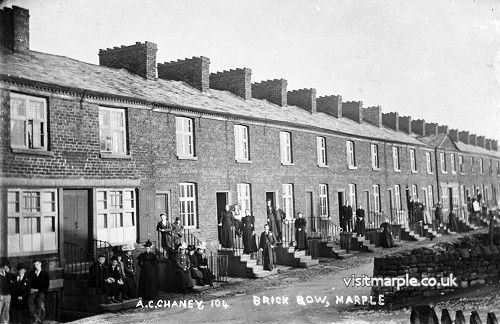 lways come through Mellor churchyard. They fell out with it one day and we never went there no more because one man was passing with a bucket for his water one day and someone says "Where are you going Steve?" "I'm going to the Royal Oak for a bucket of beer," he says. "I found a toenail in that bucket I brought last week so I'm having no more from there"(laughter).
(left: Brick Row, Stone Row and Red Row were built by Oldknow for his workers)
That was Red Row but higher up Mellor, a couple of mile higher up, was a coal pit and it supplied all the village with coal. There was a public house on each side, one called The Jordan Arms and the other the Miners Arms. There was supposed to be a ghost at Jordan Arms and we always thought it was a ghost because one night all the pots fell off the shelves, all the beer pots and all that but I don't think it was a ghost. We thought it was a slight earthquake. The coal was supplied to the natives around in Mellor, and they kept the coal pit going. It was so deep and too much water. They couldn't keep the water out fast enough and there was only one single shaft. They couldn't drop one empty down and bring a full one up, it was only one way so it finished. It didn't pay to get the water out and run it with just one hole.
I worked at Bottoms Mill when I was eleven, half time, and mother worked there. It were just like these other mills like Hollins Mill but not as advanced, it was older. The machinery was older, the mill was very narrow and it was very high, six storey high and very narrow. It could not compete with thes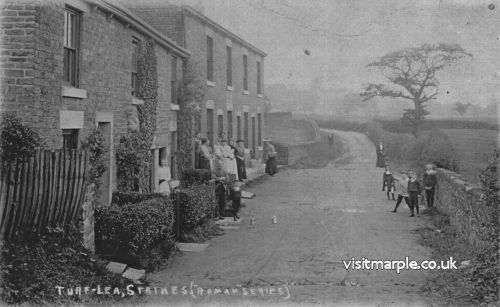 e modern mills that was modern after it, so it burned down or they burned it down out of the way. There was no lads like me ever tired, because what we 'ad to do it was all sitting down just cleaning the bobbins, that's all we 'ad to do.
My father was a shoemaker. He was born in 1838 and when he was about 16 he went 'prenticed at a house over Strines, Turf Lea, (left) lived in and served his time there for seven years. He then started on his own at Moor End, Mellor, at a shop connected to a public house called the Duke of Sussex. He was there for some time until he built one near Red Row in his garden. He stopped there but he had to go to Stockport for his leather, carry a side of leather, and a side of leather was 28 lb in weight. He carried this on his shoulder from the station.
Thanks must be given to Bill Beard, Ruth Hargreaves and Louise Thistleton for transcribing the memory recordings, the basis of this section of the website. Given the quality of these recordings, from the early 60's, with local accents and forgotten colloquialisms, an admirable achievement.