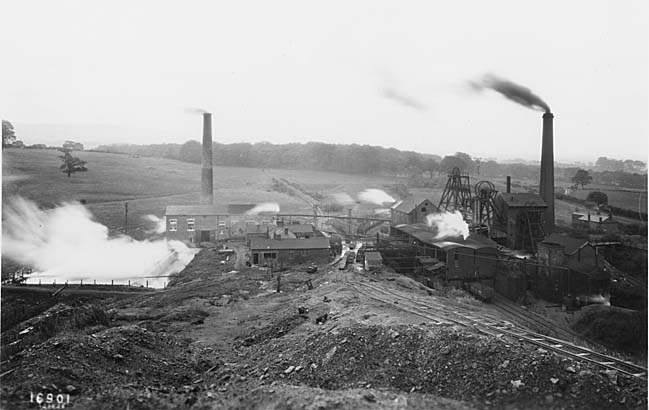 Poynton Park Pit
Tuesday 5th November
'A History of Chapel-en-le-Frith' - Peter Goddard

Furness Vale History Society

Meetings are held at Furness Vale Community Centre, Yeardsley Lane, SK23 7PN, next to the Imperial Palace Restaurant. Doors open 7pm for a 7.30 start. Admission is £2 including refreshments or £1 for members. A licensed bar is usually available
Details on the Furness Vale Local History Society website
Wednesday 6th November
'Aspects of Local Colleries' - Dave Kitching

Poynton Local History Society

Meetings are held at St Paul's School, Marley Road, Poynton. SK12 1LY. Doors open 7pm for a 7.30 start. Membership £12 for the season. Non-members £3 per meeting. Contact Numbers 01625 872068 or 875031 Membership £12 for the season.
http://www.cheshirehistory.org.uk/poynton-lhs.html
Friday 8th November
'The Bombing of New Mills and Hayfield, 3 July 1942' - Frank Pleszak
New Mills Local History Society
Meetings are held in New Mills Town Hall (SK22 4AT), on Friday evenings (usually), starting at 7:45pm. The hall is open from 7.00 pm. Visitors are welcome (£1.50). Free tea/coffee /biscuits after the talk.
Details on the New Mills Local History Society website
Tuesday 12th November
'Cheshire Heraldry' - Tony Bostock

Altrincham History Society
Subscriptions are £8p.a. or £15 to include a spouse or partner. Visitors are welcome, and are charged £2 per meeting.
Starting 7.30pm. Meetings are held at Altrincham Town Hall, Market Street, Altrincham WA14 1PG, in the Old Council Chamber, on the first floor (lift available).Altrincham History Society
Monday 18th November
'Manchester's Radical Mayor: Abel Heywood, the Man who Built the Town Hall' - Joanna Williams
Marple Local History Society
Doors open 7:15pm ready for the meeting at 7:45. Visitors are welcome to attend at a cost of £3. more details of meetings and this talk are on this site
Friday 22nd November
'H.G.Stephenson Ltd: 150 years of a local glass and china business' - Sue Parkinson-Bailey
Stockport Historical Society
All lecture meetings are now held at Stockport Sunday School, Nangreave Road, Stockport, as usual on the 3rd Friday of the month,
September to May inclusive, unless otherwise stated, and begin at 7.45 p.m. Outings as arranged.Visitors and guests are welcome at our meetings – entrance fee £3.00. Stockport Historical Society
Saturday 30th November
Greater Manchester Archaeology Day 2019
Greater Manchester Archaelogical Day

The University of Salford will be hosting its eighth annual Greater Manchester Archaeology Day on
Saturday November 30th in Peel Hall.

The annual event is an important fixture in the calendar for archaeological enthusiasts in the region
allowing members of the public, practitioners, and professionals to explore and celebrate the
region's rich history and showcasing archaeological highlights from the past year.
More details here