Have you found Marple's Hidden Gem yet? Maybe you have walked past it, or by it many times without realising it
The gem is St. Martin's Church, Low Marple on Brabyns Brow, next to Marple Station. This church, quite modest from the outside has many wonderful windows and artefacts designed and made by eminent artists and architects.
In 1866 Ann Hudson inherited Brabyns Hall. She decided to have a church built nearby and chose an upcoming young architect, John Dando Sedding to draw up plans in the Gothic style. Sedding commissioned the William Morris firm – a group of artists in the Arts and Crafts Movement – including Gabriel Dante Rossetti, Edward Burne-Jones and Ford Madox Brown, to design stained glass windows. St. Martin's was founded in 1867.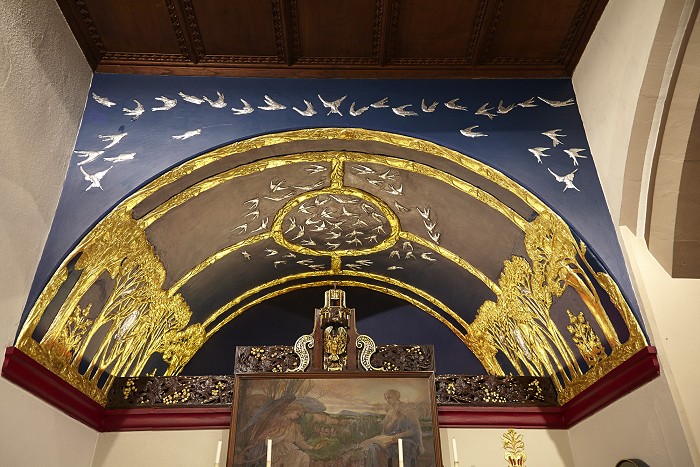 The Lady Chapel, St. Martins', Low Marple
Heritage Open Days
Friday 10 September 2021, 2.00 – 6.00 pm;
Saturday 11 September 2021, 10.00 – 3.00 pm.
The church will be open with plentiful information. It is hoped that refreshments can be served. There will be a small exhibition on 'Edible Marple', surveying how food shops and cafes have offered physical sustenance to Marple through the years, while St Martin's has provided (we hope) spiritual sustenance. See the poster here
All being well, a normal programme of events will be resumed in 2022.