Norbury Smithy
The area between the Jolly Sailor and the Bowling Green pubs was known as Norbury Smithy for centuries. It was the biggest hamlet in the area before the present town centre developed when Hollins Mill was built. This image, dating from the 1920s, shows the Bowling Green pub in the distance, just beyond the smithy. Both buildings have been replaced - the smithy by apartments and the pub by houses including a terrace of three which front onto Stockport Road. [click on the image to see a modern view]
Jolly Sailor
The Jolly Sailor was built in 1835 and had a very successful and busy role in village life. Marple's first post office was in the pub and it was a regular stop for mail coaches. Upstairs there was a large function room that was used by local societies and in 1880 it was where the Marple Conservative Association was formed. The pub was demolished in 2003 and retirement apartments, 'Smithy Court' replaced it. The 3 cottages of 'antique frontage' adjoining the Jolly Sailor date from the late18th century. In 1936 they were scheduled under the Clearance Act to be demolished to 'facilitate the erection of new property'. A member of Marple U.D.C. Surveyor's Department said 'they are just tumble-down old cottages.'
All Saints' Procession
This image dates from pre WWI and shows All Saints' church members processing along Stockport Road. In the late 19th century and the first half of the 20th century all churches and chapels had Whitsuntide processions (Whit Walks) and almost every child attended Sunday school. Today, the terrace properties on the left of the image are occupied by the Book Shop (No 70), Cloudberries Cafe (68) and the Hair & Beauty Centre (66). In 1911 No 70 was home to James Hibbert a piano forte dealer, his wife Kate, their 3 children and a servant. Silas Osbaldiston, a landscape gardener, lived at No 68, with his wife Emma and 6 children and William Knott a foreman mechanic in a cotton mill lived at No 66 with his wife Mary and their 7 children. The field next to No 66 is where, in 1927, George Yeates opened his garage. Notice how Hollins Mill in the background, dominated the centre of Marple. Before the mill was built, this area was farmland. [click on the image to see a modern view]
Stockport Road and Market Street
Only the Bull's Head pub, seen in the distance, remains today. The Marple branch of the Compstall Industrial Co-operative Society took over the premises on the left hand side of the street in 1874. Beyond the shops can be seen the roof of the Trinity Primitive Methodist Chapel, demolished in April 1964. The small shop on the right was replaced by a building used by Marple U.D.C. until after WWI when the Council offices moved to Hollins House in the War Memorial Park. The old cottages called Linn Row, between the chapel and the pub, were demolished before 1964. [click on the image to see a modern view]
Hollins Mill
This picture dates from the 1920s/30s and shows the Stockport Road entrance into the mill. Built in the 1830s by the Walmsley family, ownership passed to the Carver family and their business partners in the late 1850s. The Carver family had a real impact on the district for around 50 years and were instrumental in building the Congregational Church (United Reformed Church) on Hibbert Lane, the Union Rooms and the Carver Institute, now the Carver Theatre. The gentleman on the left is leaning against the wall of M Lomas & Son, Family Butchers. To telephone the shop, it was necessary to speak to the operator at the Marple Exchange (on Hollins Lane) and ask to be connected to (Marple) 137.[click on the image to see a modern view]
Union Rooms
The Union Rooms on the left of the photograph were built by Thomas Carver to provide an alternative to the many public houses in the village. The premises sold tea and included a library and a mission hall. In 1911, the caretakers at the mission were John and Mary Martin. Since the early 1930s, it has been the Regent Cinema. Behind the Union Rooms was a canal arm, which ran from near Possett Bridge into the mill yard and was used for delivery and dispatch of goods. When the mill was demolished in 1955, the canal arm was filled in.
Hollinside
Looking down Stockport Road from Possett Bridge this image dates from the early 1900s. 'Hollins Side', Stockport Road, started at the junction with Hollins Lane and ended at Possett Bridge. The Liberal Club on the right hand side was demolished in 1993 and a small housing development built.
Possett Bridge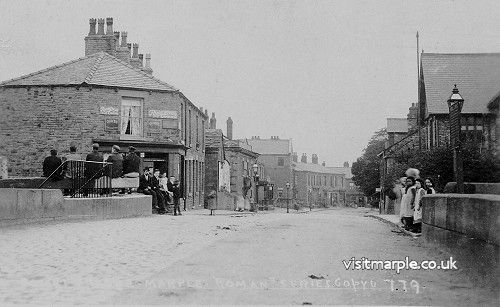 Another image looking down Stockport Road, with Possett Bridge in full view.
Notice the men sitting on the lock gate balance beam. The bridge had three openings, a horse tunnel, the main canal route and a canal arm that used to go to the Lime Kilns and which was blocked up and filled in many years ago. It is said that Samuel Oldknow offered possets of ale to the workmen to encourage them to complete the canal.
Hilary Atkinson, April 2020