September 2007 Girl Power – Manchester Style
Jean Bailo
October 2007 Ellen Turner – Local Girl in National Scandal
Kate Atkinson
November 2007 Life in Longdendale
David Frith
December 2007 Christmas Party The lighter side of Local History
Jack Turnbull
January 2008 Underground Stockport
Kevin Dranfield
February 2008 The John Rylands Library and its collections
Dawn Yates
March 2008 10,000 years in Mellor
Ann Hearle
April 2008 AGM – followed by: Fire in the Summit Tunnel
Donald Reid
July 2008 Cheese & Wine Evening
at the Old Vicarage, Mellor
There have been a number of times when county boundaries have been adjusted.
The biggest change locally, came about in 1936 when Furness Vale, most of Whaley Bridge and part of Newtown were transferred from Cheshire to Derbyshire. At the same time Mellor and Ludworth became part of Cheshire, becoming Marple Urban District Council's responsibility. The original county boundary following the River Goyt had caused numerous administrative anomalies and duplications of offices.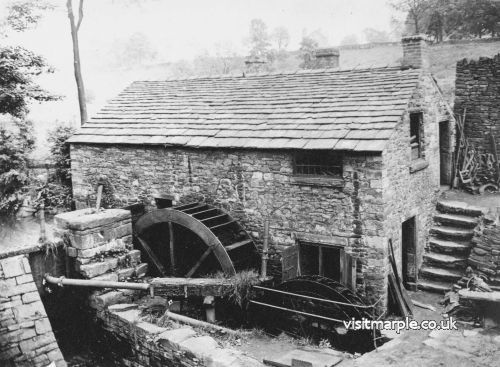 Take a walk along Town Street, Marple Bridge, cross the end of Hollins Lane, pass the little pay and display car park, and below the bridge, at the beginning of Longhurst Lane, lies one of the oldest industrial buildings in the area, Spade Forge, formally known as Forge Bank Mill. Its earliest record dates from 1776, but was probably operating before that. Although it has now been converted into a house, its past remains for all to see. The waterwheel which drove its machinery is still in situ, with the millpond dam, 40' wide and 20' high, sluice gate seating and head race adjacent.