Stories of Places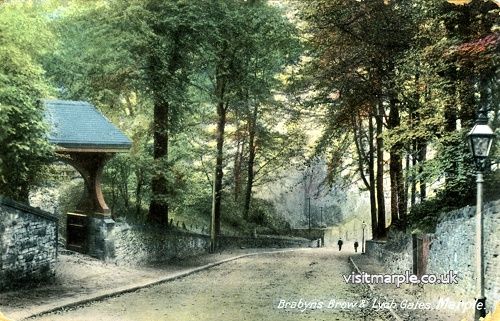 A few months ago, Ann Hearle generously donated her collection of local postcards to the Society. Collected over 40 years, there are more than 1000 cards, most of which date from the early 1900s. Some are postmarked but many are not and, similarly, some have messages but others don't. Postcards were very popular in the early 1900s and Ann's collection includes examples from more than 13 publishers including Kennerley Photographer from Marple Bridge and Raphael Tuck & Sons, Art Publishers to their majesties The King and Queen (Edward & Alexandra) who were based in the City of London. Postcards were sold through local shops and often included the shop name e.g. T W Waterhouse of the Post Office, Rowarth and M H Moore Stationers, Marple.
Many images are already shared on the Virtual Tour of Marple which Mark Whittaker runs via the Marple website, but many are new to us. The Virtual Tour can also be accessed from the MLHS website. Here are some postcards, which I hope you find interesting. Thanks to our President, Ann Hearle.
(above) A hand-coloured version of a postcard showing the Lych Gates of St Martin's Church on Brabyns Brow.
A carnival entry and I hope it won first prize! The view behind the 'flying machine' is Town Street, Marple Bridge but at first I doubted this because of the trees. However, follow this link to see the proof.
In 1911 John Russell, a woollen cloth merchant, lived here with his sister Martha who was his housekeeper. Frances Lambourne was their domestic servant.
The young man, second from the left, is Arthur Joe Hawley, standing outside Critchlow's Butchers shop in Bakewell, Derbyshire, circa 1898. Why is this postcard included in the collection? Answer: because Joe, as he was known, owned a butcher's shop in Marple (See photo via this link) In the 1911 census, Joe, his wife Coralie and their 3 children lived 'above the shop' at 41 Market Street. Joe changed career later in life and became the owner of a fish and chip shop in Church Lane. (link). What goes around comes around – this building is now a fish restaurant.
Queenie was born in 1907 and lived at Druid's cottage, Mill Brow, near to the Hare & Hounds. The first cottage to the east of the Hare & Hounds was The Druids Arms, a beer house from 1850 – 1910. Queenie appears to be helping with the haymaking but it looks contrived to me.
Taken at the back of Brabyns Hall during WW1, I haven't seen this particular image before. I can only name Miss Hudson and her dog, "Our Laddie". The ornate glass veranda/entrance can be seen in a much later photo (link ).
This postcard made me smile! Postmarked 1911,the message on the back is "This is the class beef they feed in Glossop. Am having a grand time. Tell Mrs Grove she won't know me, if I get that size when I come home. May"
Hilary Atkinson
August 2019