Welcome to the Marple Local History Society website
Visit the online Society Archives here
Church Lane
Our Next Meeting: Monday November 20th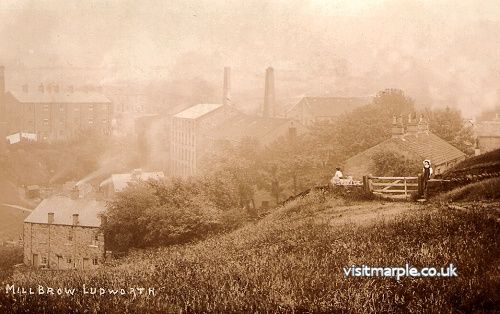 'Marple & Mellor - A Textile Tale' - Judith Wilshaw
Until the mid-18th century textiles were produced by hand in a domestic setting. The invention of a succession of machines automated the process of spinning, greatly increasing output of spun yarn, and brought about profound changes which we now call the Industrial Revolution. The damp climate of north west England, the ready availability of hill streams to provide water power, and the proximity of Liverpool, the major port for cotton imports, made the region ideally suited for the growth of the cotton textile industry. This talk explores the developments, focusing on the Marple and Mellor area.
Above, an amazing postcard of Mill Brow with a faded ghostly image showing how it got its name.
Coming up: Manchester Victorian Society 'Arts & Crafts Houses in the Lake District': An illustrated talk by Dr Esme Whittaker. Tuesday 21st November 2017, 7pm for 7.15pm, at the Friends' Meeting House, 6 Mount Street, Manchester M2 5NS, £8.00, no need to book
Book now !! For the Greater Manchester Archaeology Day, Saturday 25th November at Salford University.
Archaeology Day is a day of guest speakers highlighting just some of the significant archaeological projects and excavations over the past year. There will be book stalls, society stands and displays, view locally excavated artefacts, the Historic Environment Record database for Greater Manchester to investigate and refreshments at each break. This day is designed for practitioners, professionals, and especially members of the public.