United Nations Garden Fete at Brabyns Hall 1950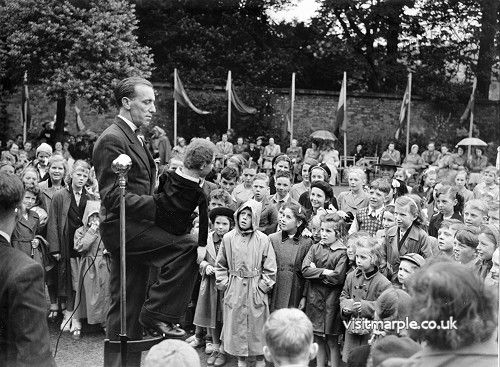 Ventriloquist Harold (?) and Jerry at a United Nations Association Fete at Brabyns Hall on 15th July 1950. From Warwick Burton collection in Marple Local History Society Archives.
Coming up!
The Greater Manchester Archaeology Festival will run from June 22 to June 25 2017. Events include:'The Greater Manchester Graffiti Survey', 'Centre for Applied Archaeology - Archaeology North West: A decade of archaeological research, 'Walking a Revolution: A Tour of Worsley Canal Village'.
The full details of the whole Festival may be found on this pdf file. Bookings may be made here.
Show & Tell: Harnessing the Power of the River Goyt
As part of the Archaeology Festival, why not join Bob Humphrey-Taylor on a tour of the River Goyt on the Oldknow estate in Marple and Mellor? Over the 3 days (23rd, 24th, 25th June) Bob will be hosting a tour at 2pm on each day. Starting point for the tours will be the Roman Lakes Car Park. SK6 7HB. Book here

Two Monday Evening Summer Strolls Remain

19th June 2017 Melandra and Glossop with Neil Mullineux
17th July 2017 Bugsworth Basin with Ian Edgar and Judith Wilshaw
Details of the walks
The report on the first of this summer's walks- All Saints Churchyard with Hilary Atkinson
About the Society
The Society was formed in 1961, following almost a decade of interest in local history matters. Originally called The Marple Antiquarian Society, it changed its name to The Marple Local History Society in 1990. The Society is a Registered Charity, 500099. More details here.
Featured Article
This wonderful image is of William Hyde who was born in Denton in 1801. He was sexton of All Saints Church, Marple for 42 years until his death in 1865. During that time, a sexton was a 'man of all trades' as the role included grave digging, clerk and maintenance of the church.
Samuel Oldknow's Georgian Church replaced an older and much smaller wooden church. It was perched on Marple Ridge at the heart of a small isolated group of buildings set amongst pastures and lying beside the long-established route between Marple and Disley. Nowadays, we do not associate the area around the church as being 'The Ridge' but that is how the land between the Church and Hill Top Farm is designated on old maps. ...........................