Hollins Mill Chimney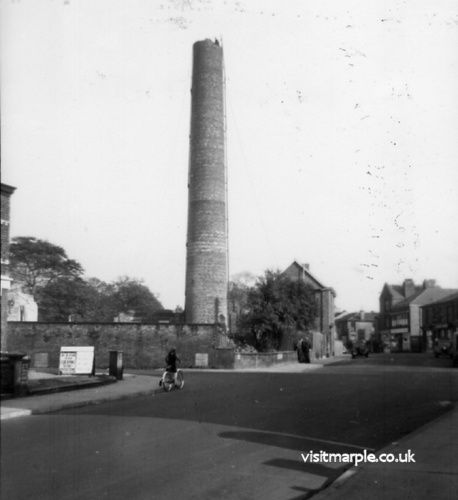 Hollins Mill Chimney shortly before its demolition in October 1957. From Marple Local History Society Archives.

On the website: Latest Publication: Samuel Oldknow - A New Perspective by Hilary Atkinson. Latest additions: MLHS Summer Walks 2016 & MLHS take All Saints for a walk
Newsletter
The Society's summer newsletter may be found here.
Next Meeting
17th. October: 'St. Martin's Arts & Crafts Church', Anthony Burton

Saint Martin's Church is an Anglican church following the traditions of the Anglo-Catholic Oxford Movement.
It was established in 1867 by Mrs Hudson, the lady of Brabyns Hall. Built during the Arts and Crafts era and extended in the Art Nouveau period the church contains works by William Morris, Dante Gabrielle Rosetti, Sir Edward Burne-Jones and Ford Maddox Browne. The Architect was John Dando Sedding. Later extensions feature the work of architect Henry Wilson and includes works by Christopher Whall. For the second talk of the season Athony Burton will talk on this Grade II listed building
Media Alert:
Railways: The Making of a Nation Historian Liz McIvor explores how Britain's expanding rail network was the spark to a social revolution, starting in the 1800s and through to modern times. Starts on Wednesday 28th September, BBC1.
Dates for October:
On Friday 7th October at 7.30 p.m. St. Martin's Heritage Trust will host a talk by Wendy and Barrie Armstrong on 'Treasures of the Arts & Crafts Movement within 20 miles of St. Martin's'. Ticket contact details here: Friday October 14th Janet Allan - 'Elizabeth Gaskell' at New Mills History Society,: Monday 17th October: Anthony Burton – 'St. Martin's Art & Crafts Church', Marple Local History Society
Further Ahead: Cheshire History Day This year's Cheshire History Day, will be held on 29 October at the new Memorial Court in Northwich. The days' topic will be
'Industrial Cheshire'.
Roman Roads; Past, Present and Future Research 2 day Conference, November Sat. 12th & Sun 13th. November
About the Society
The Society was formed in 1961, following almost a decade of interest in local history matters. Originally The Marple Antiquarian Society, it became The Marple Local History Society in 1990. As a society, we research the history of Marple, endeavouring to unfold it's story, along with that of the surrounding area, including Marple Bridge, Mellor, Compstall, Strines, Hawk Green and High Lane. Monthly meetings are held between September and April, several field trips are made each year. The society publishes a range of publications, has an active archive session on Thursday mornings, and organises occasional exhibitions. More details here. The Society is a Registered Charity, 500099.