Welcome to the Marple Local History Society website
Marple Warship Parade, November 1941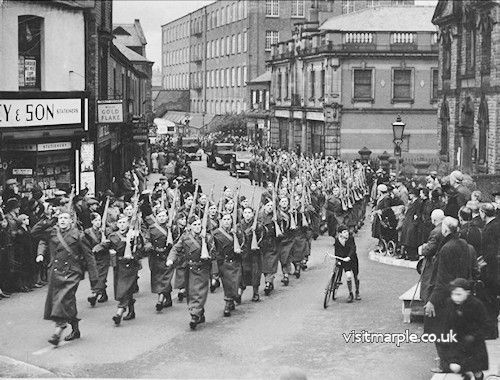 Home Guard marching on Market Street during Marple's Warship Week in 1941, provided by Hilary Ingham. From Marple Local History Society Archives.
Written on back of the photograph: No. 2 Platoon B Company. Marple, Home Guard
Lt. Harrocks, 2nd. Lt Adams, Sgts Wild & Frost, Cpls. Wood, Hindle & Waterhouse, Pvts. Kirley, Bassett, Broom, Waring, Mather, Port, Braddock, Waine, Ashley, Martin, Ritter, Burges
November 1941
One Monday Evening Summer Stroll Remains
17th July 2017 Bugsworth Basin with Ian Edgar and Judith Wilshaw
Details of the walks. Reports on two of this summer's walks- All Saints Churchyard with Hilary Atkinson & Melandara & Glossop with Neil Mullineux
To distract ! Links !
Heritage Calling -A Historic England Blog, Urchins and alleyways a rare glimpse of 19th-century Glasgow – in pictures -The Guardian, History Podcasts - BBC History Magazine, Watch Past History Lectures - Gresham College
Featured article:
In the mid-Eighteenth Century Richard Arkwright, a wig maker from Preston, perfected a whacky new machine to spin strong cotton yarn suitable for use as both the warp and weft when weaving fabric on a loom. Not only could one of these 'spinning frames' spin lots of threads at once, but many of them could be linked up to a power source, so producing really large quantities of yarn. In order to develop his ideas, Arkwright came to Cromford near Matlock, an isolated area in the Derbyshire hills with an unlimited supply of fast flowing water from a hill stream and the drainage sough of a lead mine.....