Welcome to the Marple Local History Society website
Visit the online Society Archives here

Towpath Wall Repairs

Towpath wall repairs, from the Marple Civic Society Archives. The gentleman in this picture is the late Dr. Cyril Boucher, a member of the Peak Forest Canal Society who is now commemorated at the Marple Aqueduct.
Society Exhibition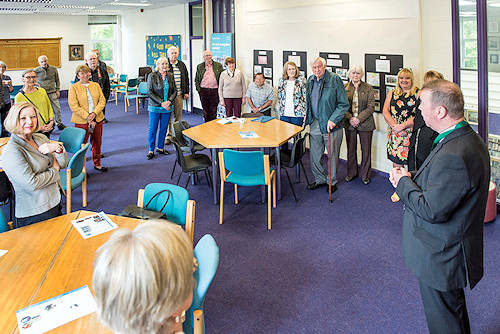 "From cripples holiday home to orthopaedic hospital"
The official opening of the Society's exhibition, by the Mayor of Stockport on Saturday, 12th May, was deemed a great success. Those attending included former patients, nurses and people who had a connection with the hospital. Debra Evans, from Disabled Living, was delighted with the response, making contact with a number of people which she will take forward. Disabled Living are committed to continue collecting archives material/memories.
The exhibition, at Marple Library, ran until 19th May.
Formed in 1897, the Band of Kindness and Children's Help Society encouraged children to be kind to animals and in turn their fellow citizens. In 1903 respite care was provided, with the charity renting a house at Peacefield, Marple. This was the start of a long association with Marple which resulted in the building of a country nursing home on Dale Road that eventually became the children's hospital and later "Tree Tops".
Working with Disabled Living, this exhibition told not only the story of Marple's contribution but also how a small Manchester based charity has developed into a national provider of practical solutions supporting disabled adults, children and older people.
For a fascinating introduction to the subject visit the "Tree Tops" Album on the Virtual History Tour.