Marple Band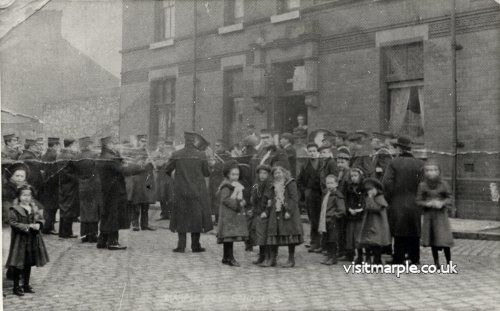 Marple Band playing outside the Pineapple Inn on Market Street around 1900. From Marple Local History Society Archives.
On the website: Latest Publication: Samuel Oldknow - A New Perspective by Hilary Atkinson. Latest additions: Diary Dates for November 2016 & Report on the meeting of 19th. September 2016 : Trafford Park - Paul Callaghan

Next Meeting
Monday 21st November
'The Railways of New Mills', Derek Brumhead

(left: New Mills Newtown station from footbridge)
Looking Ahead:
This year's Cheshire History Day, will be held on 29 October at the new Memorial Court in Northwich. The days' topic will be 'Industrial Cheshire', Greater Manchester Archaeology Day 2016 Saturday 26th November 2016, Time: 9.30am - 5.10pm, Venue: Peel Hall, Peel Building, The Crescent, Salford, Roman Roads; Past, Present and Future Research 2 day Conference, November Sat. 12th & Sun 13th. November. The Conference Programme pdf may be read here.
Take a Trip: To The National Archives Filckr page, 19.987 photos.
About the Society
The Society was formed in 1961, following almost a decade of interest in local history matters. Originally The Marple Antiquarian Society, it became The Marple Local History Society in 1990. As a society, we research the history of Marple, endeavouring to unfold it's story, along with that of the surrounding area, including Marple Bridge, Mellor, Compstall, Strines, Hawk Green and High Lane. Monthly meetings are held between September and April, several field trips are made each year. The society publishes a range of publications, has an active archive session on Thursday mornings, and organises occasional exhibitions. More details here. The Society is a Registered Charity, 500099.