Hollins Street, Marple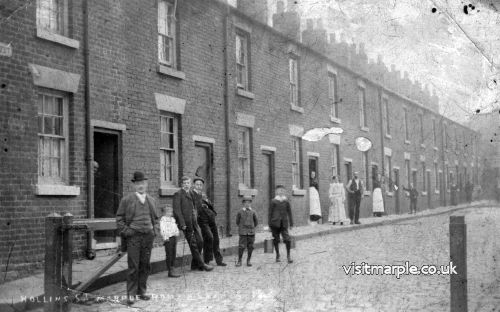 The people of Hollins Street, where Marple Fire Station is now located. Provided by Janet Holmes.

On the website: Latest Publication: Samuel Oldknow - A New Perspective by Hilary Atkinson. Latest addition: Mr. Bradbury's Memories, part of new section of the website, 'As I Remember'. These memories were recorded, organised and presided over by Mrs Gladys Swindells, then Chairman of Marple Antiquarian Society (now the Marple Local History Society). The original interviews took place after 1961, by which time the interviewees were over 80 years of age, their memories returning back to the late 19th. century.
Coming up
Facts and Fun at the Roman Lakes & Mellor Mill


At Lakes Road, Marple, SK6 7HB
SUNDAY 4th SEPTEMBER
11AM – 5PM
Entry by programme available at entrance only£3
under 16's free
Music featuring Dr. Butler's Hatstand Medicine Band • local produce • rural crafts • pop-up museum • beer tent • food stall • heritage talks • recent exciting discoveries with tours of mellor mill• ecology display • traditional entertainmentand all the fun of the fair!
More details on this pdf.
Amongst the events locally, the Society will have a table-top exhibition and bookstall, at St.Martin's, Marple Heritage weekend, Saturday 10th, & Sunday 11th September, more details here. Another local event is taking place on Saturday 10th September, when international conservation expert, John Fidler, will give an ilustrated talk, in Stockport, details on this pdf.
Lancashire Mills to Close? This summer may be your last opportunity to visit Helmshore & Queen Street Mills. These historic Lancashire textile sites are threatened with closure in September 2016. Details on this pdf
About the Society
The Society was formed in 1961, following almost a decade of interest in local history matters. Originally The Marple Antiquarian Society, it became The Marple Local History Society in 1990. As a society, we research the history of Marple, endeavouring to unfold it's story, along with that of the surrounding area, including Marple Bridge, Mellor, Compstall, Strines, Hawk Green and High Lane. Monthly meetings are held between September and April, several field trips are made each year. The society publishes a range of publications, has an active archive session on Thursday mornings, and organises occasional exhibitions. More details here. The Society is a Registered Charity, 500099.