Crowds at Marple Bridge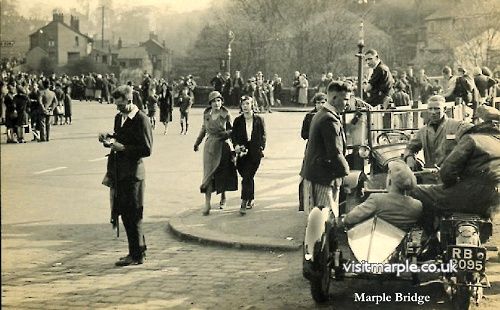 Amazing crowds at Marple Bridge, perhaps a Bank Holiday? The bike registration and dress suggest 1920s or 30s.
From the Marple Local History Society Archives.
Coming up!
Manchester Town Hall Tours: Bearing in mind that Manchester Town Hall is closing in January for five years, there are some back of the house tours of the Town Hall on 2nd. July 2017. Lasting about an hour, they do not cover any of the building on the usual tour, but the hidden corners.
Visit ...Manchester Town Hall Tours...to book.
Thanks to committee member Karen Wellings for providing this information.
One Monday Evening Summer Stroll Remains
17th July 2017 Bugsworth Basin with Ian Edgar and Judith Wilshaw
Details of the walks
Reports on the two of this summer's walks- All Saints Churchyard with Hilary Atkinson & Melandara & Glossop with Neil Mullineux
About the Society
The Society was formed in 1961, following almost a decade of interest in local history matters. Originally called The Marple Antiquarian Society, it changed its name to The Marple Local History Society in 1990. The Society is a Registered Charity, 500099. More details here.
To distract ! Links !
Heritage Calling -A Historic England Blog, Urchins and alleyways a rare glimpse of 19th-century Glasgow – in pictures -The Guardian, History Podcasts - BBC History Magazine, Watch Past History Lectures - Gresham College