Welcome to the Marple Local History Society website
Visit the online Society Archives here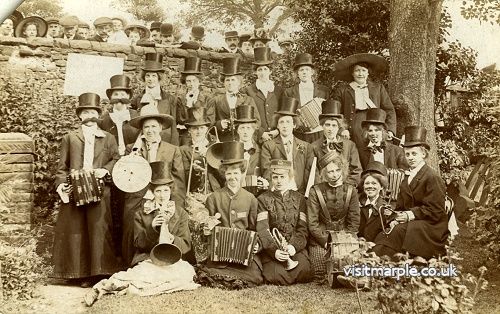 Fancy Dress at Marple Bridge ?

A photo in exactly the same spot as another group but still not sure where it is. It has the names of the people in it, see comments (plus a second name for some shown in brackets) if you understand this please get in touch. From Marple Local History Society Archives.
Standing L-R: E Verity (Mr J Smith); E Sheldon; E Sidebotham (Mr G Henshall);H Shaw; M Walker (Mr Whittaker); A Keough; E Charles, L Sidebotham (Mr T Simister).
Seated Centre: T Birchenough; A Stewart (Mrs Hinchliffe); A Roebuck (Mrs Cheetham); B Ollerenshaw; H Leaman; L C Charles.
Bottom Row: M Keough; N Holden; H Ollerenshaw (Mrs Battersby); E Hepworth; F Charles; S Williamson (Mrs J Gerrard).
Coming Up:

Summer Evening Strolls:

£3 per head - meet at 7pm
17th June Compstall - Hilary Atknson & Hilda Heald (Compstall History Society) meet in St Paul's Church car park. Map - St Pauls Car Park
15th July Disley - with Neil Mullineux meet in station car park NOT Ram's Head car park risk of parking ticket ! Meet in the station car park. Map - Disley station car park
Next Society Meeting: Monday 16th September

'Ordnance Survey Maps for Local Historians' with Paul Hindle. : Be sure not to miss this opening meeting, as the 2019-2020 season unfolds, running from September 2019 to the distant April 2020.