Welcome to the Marple Local History Society website
Visit the online Society Archives here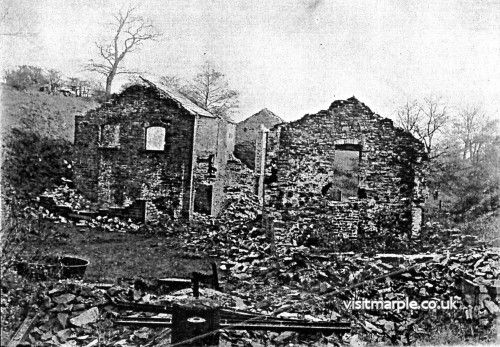 Springwater Mill
(*not a typo but Rubia tinctorum "has been used since ancient times as a vegetable red dye for leather, wool, cotton and silk.")
A bone and madder grinding mill was established around 1780 at Turf Lee near Marple. Known as Springwater bone mill, it also supplied Strines Printworks with red-madder dye extracted from the roots of the madder herb. In July 1833 the premises were advertised as to let, with mention of a two-storey building, a 10 h.p. engine and a spring water supply of 40 gallons per minute. The business was put up for sale in 1865. Trading as the Marple Bone-Dust, Glue and Size Company, it was described as a nearly new plant on the canal near the Goyt aqueduct, equipped with a disintegrator, bone-dust sieving machine, wooden boiling cisterns and a large number of glue coolers. Glue and size was still being sold from the premises 20 years later, under the name of Marple Chemical Company. Its proximity to the Peak Forest Canal was presumably a useful asset when subsequently converted to a calico mill.
---
Suze Appleton delivered a talk, 'Elizabeth Raffald, 'The Experienced English Housekeeper', to the Society in March 2019.
Next Sunday, September 22nd at 2.50pm, Suze will feature in the Channel 4 programme 'Extreme Cake Makers'. Filmed in April this year, to commemorate the 250th anniversary of Elizabeth's recipe for Bride Cake. ________________________________________________________________________________________________________
There was no problem with finding Wentworth Woodhouse. With 365 rooms, it is the biggest house in Europe. Quite a contrast to the miners' cottages that we passed on the way there. However it might not have 365 rooms as our friendly guides wouldn't confirm that. How do you classify a corridor with eight fireplaces or a cupboard bigger than a bathroom? We hoped to understand this problem once we got inside the house but where was the front door? It began as a Jacobean house with a gateway by Inigo Jones and that is still the core of the house as nothing is ever knocked down. The first Marquess wanted something rather grander so he grafted a very large baroque house onto it - the west front.
Read more: June 2015: Wentworth Woodhouse and Wortley Top Forge