Welcome to the Marple Local History Society website
Visit the online Society Archives here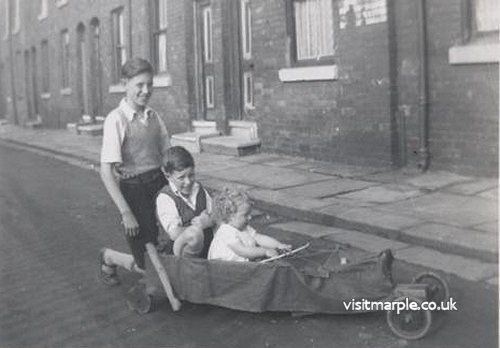 Noble brothers on Chapel Fields
Coming Up:

Summer Evening Strolls:

£3 per head - meet at 7pm
17th June Compstall - Hilary Atknson & Hilda Heald (Compstall History Society) meet in St Paul's Church car park. Map - St Pauls Car Park
15th July Disley - with Neil Mullineux meet in station car park NOT Ram's Head car park risk of parking ticket ! Meet in the station car park. Map - Disley station car park
Next Society Meeting: Monday 16th September

'Ordnance Survey Maps for Local Historians' with Paul Hindle. : Be sure not to miss this opening meeting, as the 2019-2020 season unfolds, running from September to April.
"Those folded OS Maps in that drawer, are a direct result of the Jacobite rising of 1745. Prince William, Duke of Cumberland, realised that the British Army did not have a good map of the Scottish Highlands to locate Jacobite dissenters such as Simon Fraser, 11th Lord Lovat. Unfortunately not only would the British Army's mobiles have been out of range, but it was 260 years before Google maps would be launched as an app."