Welcome to the Marple Local History Society website
Visit the online Society Archives here

Boat building at Jinks' Boatyard, now Top Lock House. (From The Virtual Tour)
Next Meeting: Monday 15th April
Canal & River Trust Waterways Walks from Top Lock
Splendid Spring Stroll - Friday 22 March 2019
Meeting at the Old Toll House at the top of the Marple flight of locks at 11am CRT walks will once again take in the beautiful countryside of the Peak Forest and Macclesfield Canals.
Coffee Tea and biscuits will be available at the end of the walks in the Old Toll House, which now houses CRT's Welcome Station. (SK6 6BN)
(further walks on Friday 5th July 2019,Friday 27th September 2019, Friday 6th December 2019)
Full details may be seen via this link https://pbs.twimg.com/media/D1oYHwcWwAApJ-J.jpg
History in Action -
Our Visits Organiser, Judith Wilshaw, has been busy both with pen and camera. The fruits of this work can be seen in two articles. First, Judith reviews the collection of 18, yes 18, rubbing tiles that have been distributed around the three sites involved in the Revealing Oldknow's Legacy project. Secondly, Judith describes the now landscaped Mellor Mill excavations. The latest arrival is a replica of the mill headstone, copied from the original in Marple Memorial Park, and clearly marking the entrance to the mill.
All in all worth a visit, so why not go ?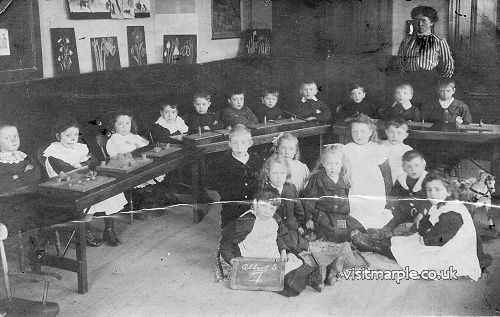 So, the Albert Schools will soon be no more. Its familiar facade has been a part of this community for 150 years so perhaps we should learn a little about it before it is gone forever. It has only been a school for less than half that 150-year history but why the name "Albert" and why "Schools" (plural)?
To answer that we need to look at the way we educated our children in centuries past.