Welcome to the Marple Local History Society website
Visit the online Society Archives here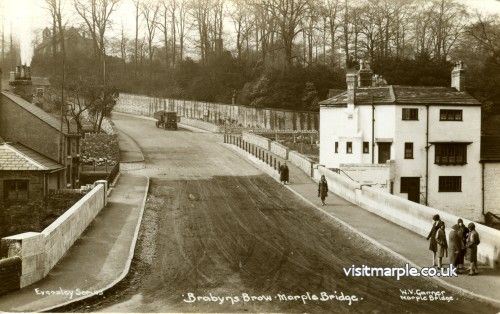 Brabyns Brow, Marple Bridge
A great shot of the wall around Brabyns Estate looking up Brabyns Brow from Marple Bridge. The postmark is hard to make out but looks like 1930. From Marple Local History Society Archives.
Diary Dates:
Next Society Meeting: Monday 16th September

'Ordnance Survey Maps for Local Historians' with Paul Hindle. : Be sure not to miss this opening meeting, as the 2019-2020 season> unfolds, running from September 2019 to the distant April 2020.
Featured Article:
Standing at the junction of London Road and Whitworth Street, the building has been largely empty since 1986, gradually deteriorating. It has been a Grade II* listed building since 1974 but that did little to save it. From this prime position it stared reproachfully at every one of the thousands arriving at Piccadilly each day. After years of inaction Manchester finally got tough with the owners. It has now been sold on to another company, Allied London, who will start development in the spring. That left a small window of opportunity for those enthusiastic nerds who wanted to see the interior of an iconic Edwardian building. Jonathan Schofield,Gathering our favourite Blue Badge Guide, leapt in to fill the gap. As well as a series of public tours over the Christmas/New Year period he agreed to put on a special tour for Marple History. Despite the short notice, Hilary Atkinson took up the challenge and assembled 40 like-minded anoraks to accompany her. It's fortunate that they were anoraks as we were greeted with the traditional Manchester weather.